Opening Hours
of Temple Street Night Market
The night market on Temple Street in Jordon is an officially regulated hawker bazaar, and as such there are rules and regulations imposed by the government and particularly the Food and Environmental Health department. At times you may consider that not all those rules are followed, but despite the apparently casual style of the market it is actually a very safe and healthy place to visit and to dine.
In order to allow the market to be accessible to locals and visitors alike with the maximum safety the Hong Kong Government Transport Department has declared that the Temple Street area is to have no cars from 2PM in the afternoon to midnight. It is officially listed as a "Part-time Pedestrian Area" and yellow temporary barriers are erected each day at the entrances to the street to stop motor cars entering the area.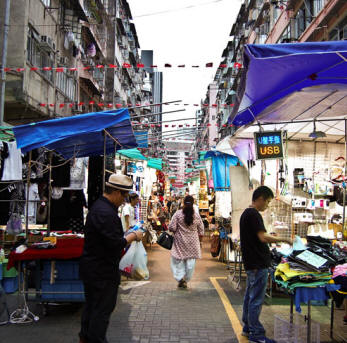 Between Jordan Road and Kansu Street each day from 2:00PM until midnight there are no cars allowed.
Therefore the market officially opens at 2PM, but in practice most stalls do not set up for business until around 4PM. But it is not until after dark that the market really "shines" with busy crowds and enthusiastic street vendors selling snacks and full meals at the dai pai dong or open air restaurants. This is primarily a night market and so it is after sunset that it is really active. The fortunetellers, opera singers and such rarities of Hong Kong life won't be seen until much later.
Expect to visit in the evening, have dinner in the market at the Cooked Food bazaar, and enjoy the atmosphere until at least 10 or 11. Although the market officially closes at midnight, but some stalls are open into the early hours, depending on the day of the week, the weather and hence the number of customers there are.
There is no point in visiting the Temple Street before the lunch hour, there is no market to see though of course there are normal commercial shops which are part of the normal life of Hong Kong to see. Everything from Builder's supplies with paints and sand and cement, small local style cafes, watch shops and sports clothes boutiques all make this a normal street during the day time.